The Reverend Doctor Joseph Lowery, often referred to as the "Dean" of the Civil Rights Movement, was the keynote speaker at UNCG's 21st annual Martin Luther King, Jr. Celebration on Wednesday, January 17, 2007.
In a packed Cone Ballroom (seating capacity 700 people) in UNCG's Elliott University Center, the Reverend Lowery spoke on being "Chaplains of the Common Good" and of "applying Martin's healing salve to the 'affected areas' of life and society in America."
________________________________
AUDIO: The Reverend Doctor Joseph Lowery, UNCG, January 17, 2007 (1 hour, 2 minutes)
The audio recording above, including both the Reverend Joseph Lowery's speech and the Question and Answer period runs at approximately 1 hour and 2 minutes and is no where near 100% professional. While it is hard to hear him, at times, I tried to do the best I could in getting it (I was sitting in the middle of the audience and sometimes the laughter is just to the point of being louder than him).
If you like or if no embedded audio player appears above, Click here to listen or right click and "Save Link As" or "Save Target As" to download and save to your computer.
________________________________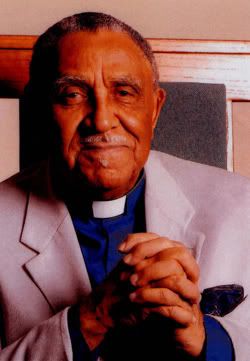 The Reverend was amazing. His speech really can't be classified as anything but the classic, moving and aw-inspiring sermon of a deeply humanitarian, loving and compassionate Southern, African-American Preacher.
He began his speech by pointing to Scripture. Although at the time he couldn't remember the chapter and verse (he told us, half-jokingly, half-seriously, that we should "look it up"), the Reverend pointed to I Corinthians Chapter 12, Verse 7 (see… I looked it up): "To each is given the manifestation of the Spirit for the common good."
He said he came to "ordain" us all as "Chaplains for the Common Good."
The Reverend related a story (oh, how us Christians like our parables) of how he had a rash on the back of his neck one day and he went to his son-in-law, who is a doctor. His son-in-law gave him a prescription for an ointment and on the label it read, "Apply to the affected area."
In much the same way as one applies medicine to the "affected area" of the human body, the Reverend said, we should "apply Martin's healing salve to the 'affected areas' of the 'body politic' and life" in the United States.
The Reverend hit on seven key areas to which he believes this "healing salve" should be applied:
International Relations – At 85 years old, the Reverend readily admitted that he was the oldest person in the room. He said that in his entire life he had never seen America's state of international relations in as bad a shape as it is now. He discussed Bush and his foreign policy, the invasion of Iraq, the occupation of Iraq and more. The Reverend said that our International Relations needed improvement and this was one of the most important areas needing quick attention and care.
The Oneness of the Human Family – Black, white, red, yellow or pokadotted or green, The Reverend stressed the importance of living as one human family, offering up to one another true and mutual respect and honoring each other's inherit dignity and worth.
Economic Justice – How vulger, vile and obscene, said the Reverend, it is that a handful of people have way more than they should ever need, while so many, countless numbers of people have way less than they always need. He pointed to a study from Sweden analyzing and comparing the ratios between what employees and workers earn to that of what CEOs and top-level management earns and what, in reality, the ratio should actually be. According to the Reverend, CEOs and other top-level staffers should be receiving on 6-7 times more than workers and employees. The truth, he said, was that in American CEOs earn sometimes as much as 300 times more as workers (and with added bonuses, benefits and "severence packages" sometimes as much as 500 times more). He urged all of those in the room to push for economic justice and to challenge America to re-think the position in which it currently finds itself economically. The Reverend also pointed to a study which sought to find the richest and poorest counties within the United States. According to the Reverend, 80% of the poorest counties in the nation belonged to the South; he gave three reasons for why this was so: 1) Low wages. 2) Racism. 3) Lack of quality public education.
Opportunities in Education – From his last point made in discussing Economic Justice, the Reverend stressed the extreme importance of quality public education for all people. He said the South has always had a bad track record when it comes to prioritizing funding and support for good and sound public education. He listed the lack of quality education opportunities as one of the most dire and serious problems facing America today. In discussing education, the Reverend also discussed Affirmative Action, warning us all not to let the true definition of Affirmative Action be hijacked and twisted for political gain. He said that Affirmative Action is NOT reverse discrimination or preferential treatment, but rather an intentional "closing of the gap." He reminded those in the room that the gaps and inequites weren't made by accident… that they were intentionally created through public policy, law and private actions. Much like the gaps and inequities were created intentionally, he persisted that they must be rolled back and done away with intentionally.

The Criminal Justice System – The Reverend related back to his home State of Georgia, saying that while African-Americans constituted no more than 30% of the general population, they accounted for more than 66% of those persons incarcerated within the criminal justice system. The Reverend said that the problem is not that black people commit more crimes, but rather that racism, whether we like to admit it or not, still plays a part in how African-Americans are viewed by the legal system and the authorities. He also added that inequities existed not only between how laws are written and enforced for different people, but also that many black people being unable to afford legal representation often take "deals" just to get out of more, possible jail-time (even if they may be innocent of the actual crime).
Division & "Weapons of Mass Distraction" – The Reverend stated that we "are too easily divided and victimized by 'weapons of mass distraction.'" Here he told the story of an African-American, Washington, DC-based pastor (who he kept nameless within his speech but who we all know to be the Reverend Willie Wilson of the 8,000-member Union Temple Baptist Church) who led his congregation down a path of division and mis-guidance, preaching and pushing for an amendment against same-sex marriage. The Reverend asked, Why care about something like same-sex marriage when millions of your own children are dying in starvation and poverty within the slums? The Reverend went on to speak on respect for all people and how that played in to Civil and Human Rights as a whole. He said that if you are one who says, "I believe in human rights for all people, except for…" then you really don't believe in human rights or equality. To believe in equality and human rights is to believe in it for all people. If you don't, then you are, according to the Reverend, creating an oxymoron and certainly not standing up for equality. He said no matter what race, color, religion, creed, sex, gender OR sexual orientation… we are all deserving of human rights, civil rights and equality. The Reverend said he "sometimes wonders about people who are so homophobic." Quoting Hamlet, he said, "Me thinks you doth protest too much." The audience responded with laughter and applause. He continued, "If a person is a secure in their sexuality, they have no time to waste on sneaking around to see what you are doing."
"Weapons of Self-Destruction" – In his final key area, the Reverend included both ignorance & complacency, and sexual irresponsibility, as well as drug and substance abuse and addiction. He said it's just fine and dandy to know about JayZ or Beyonce, but he asked, "What else do you know?" He also warned against "babies having babies" and the dangers of taking on adult privileges when one is not yet ready to take on adult responsibilities.
Also… although I can't remember exactly where it fit into his speech, the Reverend touched on political parties and political affilation. Of himself, he said, "I'm not a Republican and I'm not a Democrat… I'm a Methodist." Of the political parties, in general, he stated, "One of 'em takes us for granted and the other just takes us."
________________________________
I feel so honored, so humbled, inspired and awe-struck to have been able to just be in the same room as this wonderful man. I am so happy that he was able to speak at UNCG and I am grateful that I was able to hear him. (Pictured right: Neo-Black Society Gospel Choir)
At the end, during the Question and Answer period, I rose and walked to one of the available microphones not to ask a question, but to thank the Reverend for what his message had meant to me (you can hear this on the audio). As a gay man in American, it meant more than I can describe to just sit and listen to such a great and wise Civil Rights leader like himself affirm me as a human being and affirm me as an American citizen. Thank you, Reverend Lowery.
To this, Reverend Lowery responded: "God didn't call us to judge. He called us to love… and when you love, you have no time to judge. The Bible says that when you judge, you will be judged. With the same measure you judge, you shall be judged and none of us wants to live with that."
The Reverend also responded to a student's question regarding Presidential candidate Barack Obama. Although the Reverend didn't comment on whether or not he thought Obama was good for the job, he did say he knew Obama's pastor, planned on meeting his pastor and that he thinks he is a "very impressive young man," hopes Obama is grounded in truth and thinks that one reason why he has become so popular and that people are "so attracted to him in this moment in history" is because the American people are so sick and tired of the bickering taking place in politics today and Obama seems to represent a "breath of fresh air" and a sense of "reconciliation." He added that the "jury is still out" on whether Obama could make it to the Presidency.
I hope that you will cherish the Reverend's message and, well… to be honest, the Reverend's sermon, just as much as I did.
________________________________
About the Reverend Doctor Joseph Lowery (src)
The Reverend Joseph Lowery, outspoken civil rights activist, will be the keynote speaker in 2007. He was born on October 6, 1921, in Huntsville, Alabama. Considered the dean of the civil rights movement, Lowery began his education in Huntsville, spending his middle school years in Chicago before returning to Huntsville to complete high school. From there, he attended Knoxville College, Payne College and Theological Seminary, and the Chicago Ecumenical Institute. Lowery earned his doctorate of divinity as well.
Lowery began his work with civil rights in the early 1950s in Mobile, Alabama, where he headed the Alabama Civic Affairs Association, an organization devoted to the desegregation of buses and public places. During this time, the state of Alabama sued Lowery, along with several other prominent ministers, on charges of libel, seizing his property. The Supreme Court sided with the ministers, and Lowery's seized property was returned. In 1957, Lowery and Dr. Martin Luther King, Jr. formed the Southern Christian Leadership Conference (SCLC), and Lowery was named vice president. In 1965, he was named chairman of the delegation to take demands of the Selma to Montgomery March to Alabama's governor at the time, George Wallace.
Lowery is a co-founder and former president of the Black Leadership Forum, a consortium of black advocacy groups. The Forum began protesting apartheid in South Africa in the mid-1970s and continued until the election of Nelson Mandela. In 1979, during a rash of disappearances of Atlanta's African American youth, Lowery provided a calm voice to a frightened community. After becoming president of the SCLC in February of 1977, Lowery negotiated covenants with major corporations for employment advances, opportunities and business contracts with minority companies. He has led peace delegations to the Middle East and Central America. In addition to serving as pastor to several churches over the years, Lowery's efforts to combat injustice and promote equal opportunities has led to the extension of provisions to the Voting Rights Act to 2007, the desegregation of public accommodations in Nashville, Tennessee and the hiring of Birmingham, Alabama's first black police officers.
After serving his community for more than forty-five years, Lowery retired from the pulpit in 1997. He also retired in January of 1998 from the SCLC as president and CEO. Despite his retirement, Lowery still remains active. He works to encourage African Americans to vote, and recorded a rap with artist NATE the Great to help spread this message.
Lowery has received numerous awards, including an NAACP Lifetime Achievement Award, the Martin Luther King Center Peace Award and the National Urban League's Whitney M. Young, Jr. Lifetime Achievement Award in 2004. Ebony has twice named him as one of the Fifteen Greatest Black Preachers. Lowery has also received several honorary doctorates from colleges and universities including Dillard University, Morehouse College, Alabama State University and the University of Alabama.
Technorati Tags: Joseph Lowery, MLK, Martin Luther King, UNCG, Greensboro, North Carolina, Willie Wilson, Barack Obama, homosexuality, gay marriage, gay rights