Soulforce Youth
www.interstateq.com/soulforce/
This page contains resources and links to information on Soulforce Youth actions, including the 2007 Equality Rides, the Right to Serve Campaign (including Greensboro, NC) and the recent Equality Ride.
The 2007 Equality Rides
Official website: www.equalityride.com
InterstateQ Archived Posts: Soulforce/Equality Ride
InterstateQ Videos on the Equality Ride
InterstateQ Photo Gallery: Equality Ride
East Bus Route, including Baylor University, Bob Jones University, University of the Cumberlands, Oklahoma Baptist University, Patrick Henry College and more.
West Bus Route, including The University of Notre Dame, Brigham Young University, Pepperdine University, BYU-Idaho and more.
Meet all of the 2007 Equality Riders at www.equalityride.com/2007riders.
Equality Ride Video: See video footage from before & during the Ride.
In March and April 2007, 56 youth activists will traverse the country, entering into the centers of religion-based oppression against LGBT people and spread the message of love and acceptance for all God's children. Thirty-two religious colleges & universities with policies prohibiting the enrollment of open LGBT students and beliefs, teachings and doctrines which teach and promote an mis-truth that LGBT people are "sick and sinful" will be witnesses to the amazing, liberating, loving, non-violent and relentless forces of truth speaking to the love of God and Gospel of Christ. LGBT students suffering under oppression of a belief system which claims "love the sinner, hate the sin," will hear, "God loves you and God affirms you without reservation."
Selflessly putting themselves forward, these youth activists will reach out and build up, bringing hope and strength to those who may have never heard it before.
East Bus Stops:
InterstateQ will follow this journey, as both Matt & Brandy are "Equality Riders." We hope you will follow this great journey with us.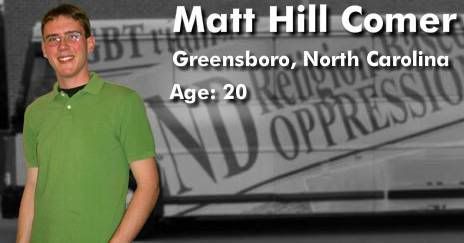 Visit Matt's Rider Page where you can "sponsor" him on the Ride.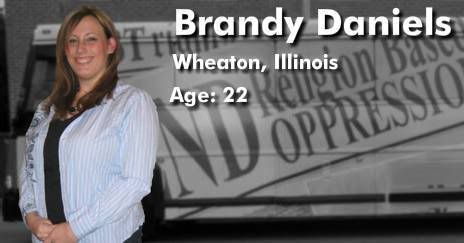 Visit Brandy's Rider Page where you can "sponsor" her on the Ride.
___________________________________________

The Right To Serve Campaign
Greensboro, NC; September 21, 2006
Official website: www.righttoserve.org

Official Greensboro Campaign event site

Greensboro Campaign event Donation Site

Click here for a list of media and blog coverage on Greensboro's Soulforce Right to Serve Campaign
Archive of MattHillNC.com postings on the Right to Serve
Archive of MattHillNC.com postings on Don't Ask, Don't Tell


Click here to read The New York Times article, September 14, 2006
Click here to see the first media coverage of the Greensboro Right to Serve events, by Fox 8 WGHP
Click here for photos from the Greensboro Soulforce Right to Serve Campaign
Be sure to read the information below and check out a list of media coverage on the events nationwide.
Some information from the Soulforce website:
This fall openly gay, lesbian, bisexual, and transgender young adults who are willing to serve will attempt to enlist in the military in thirty cities across the country. When they are denied, as federal prohibits their service, young adults will sit-in at the recruitment centers. Each city will have its own schedule and demands.

Our goals are many. We will raise awareness about the actual effects of DADT. Americans will see the absurdity and discrimination of rejecting qualified individuals based on sexual orientation. We will call on members of Congress who have not co-sponsored the Military Readiness Enhancement Act, a bill which would lift the ban, to speak with us, their constituents, and discharged service members. We are convinced that a sincere and thorough conversation among Congressmen and women and the Americans they serve would make obvious the popular support for lifting the bans on LGBT service.

The Right to Serve campaign will involve nearly 1,000 young adults across the country – LGBT and heterosexual, Christian and non-Christian – in the fight for equality and especially Soulforce youth activism. Young adults will have opportunities to find their voices and their own leadership skills as they take charge in their hometowns. In this coordinated and sustained campaign that continues the efforts of Soulforce youth activism, we will be a necessary force in the effort to purge our government of sanctioned discrimination against the LGBT community.
The Cities of the Right to Serve Campaign:
Of course! Greensboro, North Carolina!
Minneapolis, Minnesota
Duluth, Minnesota
Madison, Wisconsin
Milwaukee, Wisconsin
Oklahoma City, Oklahoma
Tulsa, Oklahoma
Austin, Texas
Houston, Texas
Los Angeles, California
Chicago, Illinois
Philadelphia, Pennsylvania
Wilkesboro, Pennsylvania
New York, New York
Poughkeepsie, New York
Washington, DC
Knoxville, Tennessee
Cleveland, Tennessee
Richmond, Virginia
Phoenix, Arizona
Providence, Rhode Island
Portland, Oregon
Seattle, Washington
New Haven, Connecticut
Middleton, Connecticut
And More!!!
Equality Ride
MattHillNC.com Q-triad Blog Resources:
Official Websites:
Google News:
My thoughts on the Equality Ride:
The Soulforce Equality Ride is now making its way across the United States. The 19 stop tour will bring LGBT and straight allied activists to religious and military colleges and universities which bar the enrolment of open LGBT students across the country.
Built upon the non-violent and peaceful traditions of Martin Luther King, Jr., Ghandi, and the Freedom Rides of the 1960s, Soulforce's Equality Ride seeks to bring understanding, dialogue and reconciliation in mutual love and respect on the issues surrounding LGBT persons and religiously-motived biased, prejudice and oppression.
I was lucky enough (along with being humbled and honored) to have been able to participate in the events of the Ride's first stop at the Reverend Jerry Falwell's Liberty University in Lynchburg, Virginia. Twenty-four activists including me and another Greensboro resident were arrested that day all in an effort to step onto the Liberty campus and dialogue with students. (Picture Right: Equality Rider Tommy Atz [left] and me [right] with other participants at Liberty University; image copyright MTV News).
By putting a face on LGBT people, Liberty students would have had the chance to see humanity and, even if in the end still disagreeing with our message, true Christian love and compassion would have still been shown and dialogue would have still occurred.
Many people have confronted me saying: "You were only trying to cause trouble." OR "What good could have come out of being arrested?" OR "These schools are private; why are you pushing your agenda?" Things of that nature and more have been asked of me, along with the occasional anti-gay slur and/or epithet from those not yet mature enough to engage in civil conversation and dialogue.
The answer to those questions are simple. No, I wasn't and no one else was trying to "just cause trouble". What we were trying to do was enter a campus non-violently and peacefully in order to engage in conversation and dialogue with students. We wanted to be able to speak to students and converse with them, hearing what they had to say and, in turn, having them listen to us in true Christian love and compassion. All of this would have been more than possible on campus, as evidenced by the conversations we were able to have with students who had come off campus to talk with us.
Some have said no good could have come from being arrested. I disagree. One Liberty University student who was interviewed by the local news media had this to say (paraphrased):
Nothing is going to be accomplished for Christianity by standing here and saying "You are wrong" and condemning them. They should have been allowed on campus.
I think the arrests definitely had an affect on students at Liberty, as well as students and citizens across the country. It said this: We believe so strongly in our cause and so strongly in the unconditional love of our God that we were willing to face the power of the state in proclaiming the truth.
It is only natural that those participating in these events will come up against opposition, both from the outside and inside of our community. The one notion we should keep in mind, however, is that change sometimes requires people to take part in actions which are usually deemed "inappropriate" or unnecessary. Many have said the actions of Soulforce are exactly that, but I firmly believe that only good can come from all of this.
As one columnist in Houston said, the Equality Ride, if anything, is at least softening hearts even if it is not completely changing minds. I think it is perfectly clear that love and compassion are beginning to win out over prejudice and bigotry.
It is wrong, no matter what you believe about homosexuality, to cast other humans to the side and out of side. This is something Christ never did, for He was the first to befriend and defend the outcasts of his day. As Equality Ride brain child and co-director Jacon Reitan has said many times, LGBT people are today's outcasts from the Church. Christ would accept us and we are proclaiming that truth.
I pray that hearts will be softened and God will make changes on this earth. I pray that God will watch over the Equality Riders and those attending and working at the schools they visit. I pray that all are safe, all are accepted and all are treated as children of God. All of us were made in His image and no human can rightly take away any person's divinely ordained and inherit dignity and worth.
~Matt Comer~